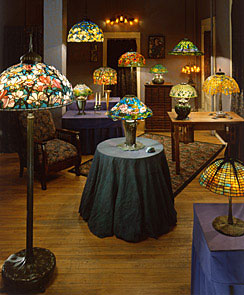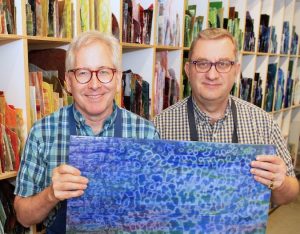 Century Studios was founded in 1986 by Irwin Terry and Bill Campbell. Century Studios moved to our expanded studio & storefront space in St. Paul, Minnesota in 2009. We were previously located in a storefront in the historic warehouse district of downtown Minneapolis, Minnesota for over 20 years.
In over 35 years of business, we have created more than 1200 reproduction Tiffany lamps that are featured in private and public collections worldwide. Our work is inspired by the exquisite design quality and craftsmanship of the original lamps produced by Tiffany Studios in New York from the 1890's through the 1920's. We have translated our intensive studies of original Tiffany pieces into the museum-quality reproduction Tiffany lamps available at Century Studios today.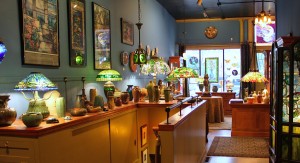 Using patterns, forms and only the finest American-made glass, each piece we create is approached individually from a fine art perspective. After studying painting, printmaking and a variety of artistic media, both Irwin and Bill earned BFA degrees from the Minneapolis College of Art and Design in 1983. Combining our professional fine arts training and natural artistic abilities, clients are offered a unique opportunity to own a beautifully crafted piece of functional, decorative art. In addition to a personal obsession with detail and design accuracy, we both have a strong natural aptitude for color that has been finely honed through working with glass for many years.
Louis Comfort Tiffany surrounded himself with fine designers who created most of his famous lamp patterns under his direct supervision and guidance. Based in nature, these lamp designs become more than just lighting fixtures — the intricate glass patterns, combined with handcrafted bases, form luminescent sculptures that capture both the natural world and the viewer's imagination.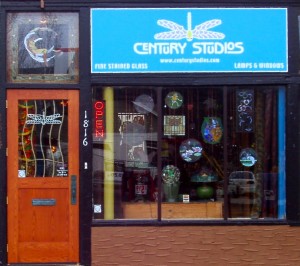 At Century Studios, we offer our clients a chance to step back in time and re-visit Tiffany Studios as it was at the height of its creative zenith. When you visit our retail showroom and workshop we will be happy to show you examples of completed lamps as well as whatever projects we currently have in production. Lamps by Century Studios are all artist signed and have been shipped to collectors across the country and around the world.