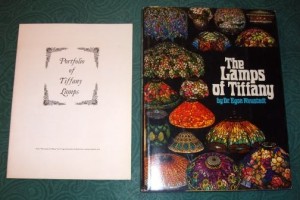 The Lamps of Tiffany by Dr. Egon Neustadt was the first major book published about Tiffany lamps and is still one of the most extensive, showing several color variations on many lamp designs. It is an important book for any Arts & Crafts library, and a "must have" volume for serious Tiffany collectors/enthusiasts.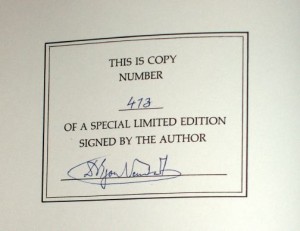 Published in 1970 by Dr. Nuestadt through the Fairfield Press, New York, this book was originally published in two editions. The first was a standard hard cover book with an illustrated dust jacket, and the second has a deluxe binding of purple cloth stamped in gold and pink gilt on the cover and spine, rather than the standard yellow cloth stamped in purple and gold. The deluxe edition is very hard to find and was signed and numbered by Dr. Neustadt. There is a second printing of this book which has a black cloth binding.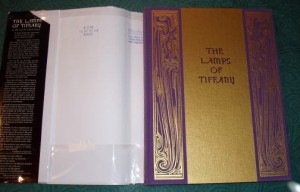 The Lamps of Tiffany chronicles Dr. Neustadt's extensive private collection of Tiffany Studios lamps and glass. Included are photos of many of the most important Tiffany lamp designs which are accompanied by lengthy descriptions by Dr. Neustadt. Starting his collection in the 1930's, Neustadt was an early Tiffany collector and most of his collection is now divided between the New York Historical Society and the Queens Museum of Art (Neustadt died in 1980) .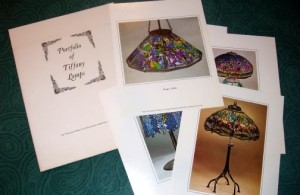 The pictures show a copy of the deluxe edition, copy #473 (of an unspecified number), hand-signed and numbered by Dr Neustadt. The book itself is in fine condition showing only the slightest of wear to the head and tail of the spine. The dust jacket is price clipped (because it is a deluxe copy) and has an 8" vertical tear along the edge of the spine, with some wear around the edges.
Included with this book is the Portfolio of Tiffany Lamps, a folder containing 16 prints of various lamps from the collection, published at the same time as the book. This copy is available for purchase from our showroom. We only have one deluxe copy of this rare book available.