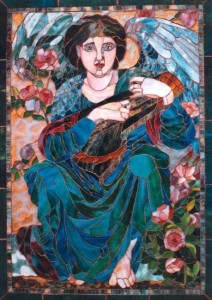 Over the years, Bill has made quite a few glass mosaic panels with a variety of sources for inspiration. These pieces are created by cutting art glass to make a picture using the reflective quality of the glass (as opposed to our stained glass windows and lamps where the glass is selected with light coming through it). Once cut, the pieces of glass are permanently affixed to a backing, then the space between the pieces is filled with grout. This gives the final piece a softer overall look than a stained glass window panel because the lines between the glass are not dark metal outlines.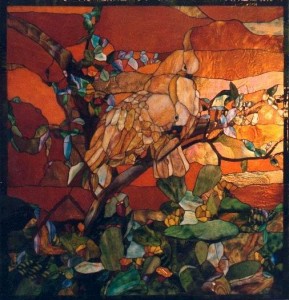 Usually, only one person can work on a glass mosaic project because the picture will evolve over the course of its creation, so it is difficult to work on two different sections of a piece at one time. Bill seems to have more patience for this kind of work, so Irwin usually works on a lamp or window project while a mosaic is being created.
The Cockatoo mosaic was made for a St. Paul, MN couple and was inspired on a Tiffany Studios mosaic wall hanging. The Angel Playing Music panel was made as a studio piece over 10 years ago and was sold at that time.
One of our most recent mosaic panels is inspired by a Pre- Raphaelite painting of Sidonia Van Beck by Edward Burne Jones. One of the wonderful features of glass mosaic is the ability to use iridescent and lustre glasses. Lustre glass has a soft, reflective surface that catches the light as you walk past it. Sidonia has a velvety blue lustre glass background that compliments the glasses chosen for the figure which are not iridized. Our Sidonia portrait mosaic is finished in an elaborate gold frame and is currently available in our showroom.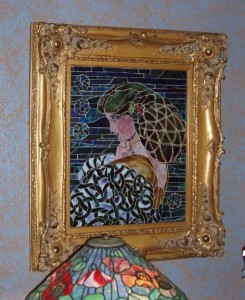 Lustre glass was used extensively by Tiffany Studios in their mosaics. One of the largest Tiffany glass mosaics is the Dream Garden in Philadelphia, PA. Located in the lobby of the Curtis Publishing Building just behind Independence Hall, the Dream Garden is a masterpiece of mosaic art which was created by Tiffany Studios from a painting by Maxfield Parrish.