Readers of this blog will know we have mentioned that Bill has been working on a large mosaic project. The piece is based on the painting The Kiss by Gustav Klimt. At approximately 30″ x 40″, this large wall hanging mosaic was a major project, and one that Bill had to work on by himself since mosaic requires a different construction method than a stained glass window.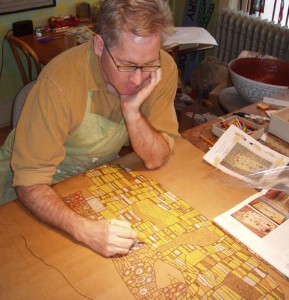 While Bill was elbow deep in tiny shards of glass, Irwin tackled the 18″ Lotus Lamp (see postings from Nov, 3, 10, 17 & 21).
To begin this project, Bill had to make a full sized cartoon just like he would do for any window project. Once the drawing was completed, a paper copy was made by hand and the work of selecting the glass could begin. Whereas window cartoons are exact blueprints for the glasswork, mosaic cartoons are used more as guides because the piece will change as it is being constructed.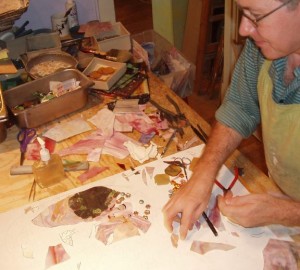 Mosaic pieces of glass are cut and fit by hand and then are cemented to a backing. Once the image is completed, the piece is grouted to fill in the gaps. The finished mosaic panel will be be viewed for the reflective qualities of the glass so we usually use lots of lustre and iridescent glasses to provide a shimmering surface.
Once Bill completed the cartoon, the work of cutting and fitting the glass began. He started with the faces of the figures and worked out from there.
Starting with the faces of the figures, Bill used the cartoon as a reference and had a paper pattern that he cut up to help determine the shapes on the finished pieces. Below is a photo of the completed faces without grout. Grouting does not happen until all the glass is laid down. Our next posting will show the rest of the process for this piece.