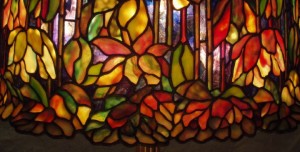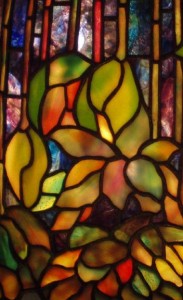 Now finished, the 18″ Lotus shade is a riot of impressionistic color and texture. The water glass has a wonderful purple tone which is difficult to find in modern art glass. Made by Schlitz Studios in the early 1990's, this water glass was one of Jim Schlitz's signature glasses. After Jim Schlitz's death in the mid-90's, his Milwaukee studio and its unique glass foundry closed for good. Schlitz glass is highly prized and sought out by stained glass artists. We have been saving the water glass for this shade for almost 15 years, and feel it was worth the wait to finally use it!
The flower colors in this lamp are created from a mix of Schlitz, Lins (another highly prized glass company that sadly is also out of business), Oceana and Uroborous glasses. Irwin chose the glass for this shade for the intensity and variety needed to make this impressionistic water garden come alive.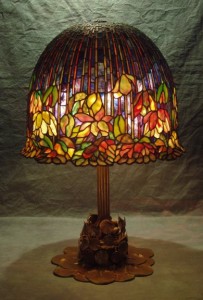 The completed shade is mounted on the 10 light Pond Lily bronze reproduction base that was created by Studio Disselhoff in the late 1990's. Obviously, this lamp was a long time in coming, with many of the unique materials waiting until Irwin had the time to work on this lit sculpture.
The lamp was created as a studio piece for our showroom, but has been purchased by an Iowa couple for their collection.