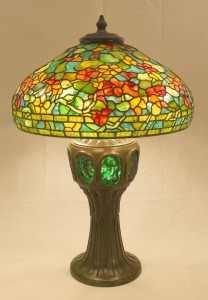 The 22″ Nasturtium shade is a generously proportioned turban shaped shade that can be used as a chandelier fixture, on a floor base, or as a table lamp. We recently completed this shade for a client in Texas. The finished piece is shown on the large Turtleback base. The band of green turtleback tiles is illuminated from within the base.This large bronze reproduction Tiffany base is made at Century Studios.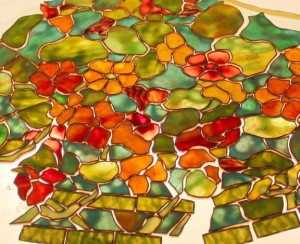 Taking our color cues from an original Tiffany Studios example that was sold at auction last year, this shade has muted greens and a mix of flower colors. The background glass is a mottled, blue tone with green and pink/red running through it. The green rippled borders add texture to the shade. The overall effect of the shade is a harmonious blend of colors.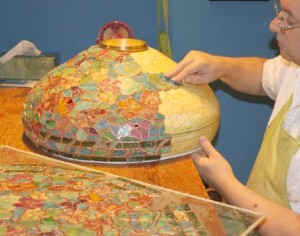 To the left, Irwin is seen transferring the foiled pieces onto the form. The pieces are held in position with our house-made tacky wax in preparation for soldering the shade.