The 28″ Daffodil shade is completed and delivered. Upon receiving the shade, the clients commented that, " The colors are perfect. It looks like it has always been in our home."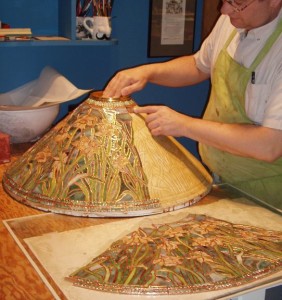 Because of their size and shape, the 28″ cone shaped shades were designed by Tiffany Studios as chandelier fixtures. Clients (then and now) also use these shades on large table bases and as floor lamps. To the right, Irwin is transferring the foiled pieces onto the shade form for soldering. The form is made of fiberglass and is covered with our specially made tacky wax which holds the pieces in place.

This Tiffany Studios pattern has an organic feel, with the plants "growing" from the bottom of the shade. The windswept flowers dance across the surface in rhythm with a gentle breeze which can almost be felt. Even though the pattern is repeated three times to create the shade, the repeats are not easily definable in the finished lamp.