One of Tiffany Studios' most celebrated lamps is the 28″ Magnolia shade on the Senior Floor base. Unlike most Tiffany shade motifs which were available in multiple sizes, the Magnolia was only offered as a 28″ shade. We recently completed one of these spectacular lamps for a client in Los Angeles.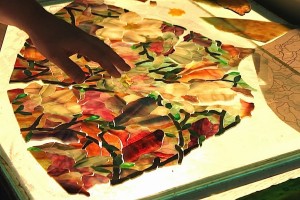 Creating a large floral shade takes quite a bit of time and patience. For this shade we selected a color scheme that is lighter at the top and becomes richer towards the lower half. Many of the large flowers in the shade were cut from Drapery Glass.
Magnolia shades have become synonymous with Drapery Glass – the thee dimensional hand-folded sheet glass invented by Tiffany Studios. While not all original Tiffany Magnolia shades employ Drapery Glass, its use in this shade elevates this pattern to a higher level.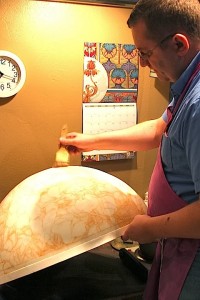 For our shade, we culled one of a kind pieces of Drapery from our glass library that we have been saving for just the right project. Much of the Drapery Glass used in this shade was created by the celebrated Schlitz Studios in the 1990's. In the two photos above, Irwin is completing a final check of one section of the lamp and picking a border glass.
Once the glass has been selected and all the pieces are cut and fit to the pattern, each piece is individually wrapped in copper foil and transferred onto the form.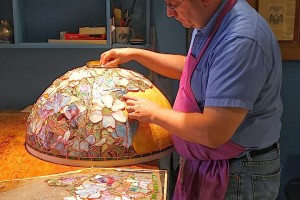 The shade form has been coated with a beeswax mixture which will allow the glass to adhere before soldering.
Soldering a shade of this size will take several days. In the photo below, Irwin is seen soldering the outside of the Magnolia shade. We use a special shade holder which was made to our specifications to be able to support the weight of these large shades and still allow us to tilt the shade to any angle while soldering.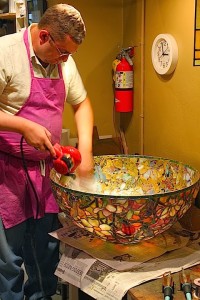 Once the outside of the shade is completely soldered, the form is heated so the wax will melt and release the shade. Leftover wax is melted away on the interior of the shade before reinforcing wires are added and the interior is soldered.
The shade is finished with a solid brass lower rim and is then ready for cleaning. The cleaned shade is copper plated so the lead lines can be given a verdigris patina. Once completed, the shade is signed and numbered and ready to be displayed on the Senior Floor base.