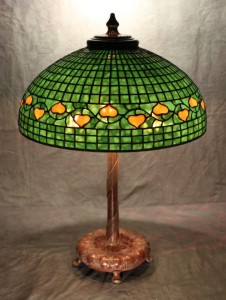 Large geometric shades are always impressive, and perfectly combine simplicity and detail without the lushness of their floral counterparts.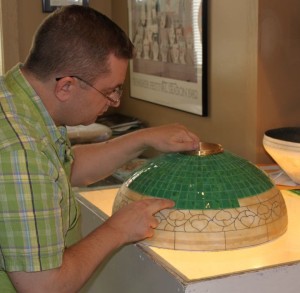 The 20″ Acorn shade is a perfect example of how a large shade can be entrancing, yet remain simple.
We recently completed a 20″ Acorn shade for a client in Louisiana. The beginning of the process employed to create a geometric shade is slightly different from a floral. When we create a geometric shade, the pieces are cut and fit row by row, beginning at the top of the shade. The challenge to cutting a geometric shade is to keep the rows lined up both horizontally and vertically on the three dimensional surface of the form.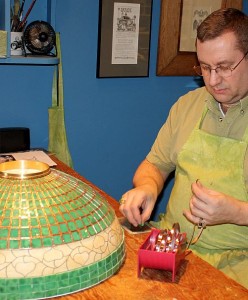 Once the geometric portion of the shade is cut and fit on the form, the decorative band is laid out and the entire lamp is foiled by hand in preparation for the soldering. Checking to make sure that the lines remain very straight, the shade is soldered, cleaned and patinated.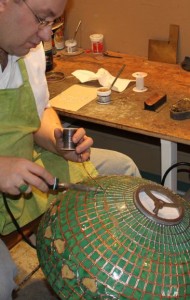 In the photo at the top of this posting, the completed lamp is shown on the highly detailed Decorated Library base. Upon receiving the shade, our client wrote to tell us, "Just got the shade in…LOVE IT!"