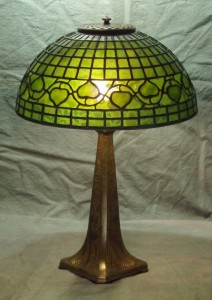 Last week, we completed a 12″ Acorn shade for a New York City client. Tiffany Studios created Acorn shades in many sizes including 10″, 12″, 14″, 16″ and larger. We are pleased to offer all of these sizes for our clients today.
The Acorn shade was originally called a Vine pattern, but today everyone refers to this design as an acorn. The shade we created is more vine-like in coloration with a lush green background and darker green acorns (or leaves).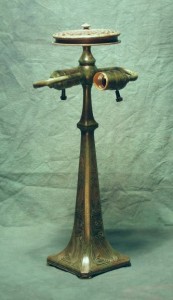 The base chosen by our client for this shade is our reproduction Chinese base. The design for this base matches the Chinese desk set pieces created by Tiffany Studios.
Upon receiving the lamp, our client wrote, "It surpasses my expectations. The glass is wonderful as is the base. It was well worth waiting for."