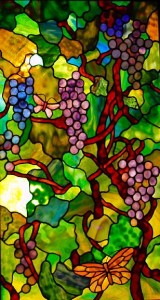 Commission work at Century Studios ebbs and flows between window and lamp orders. We seem to hit stretches where clients are ordering more windows, and we are at the tail end of one of these time periods.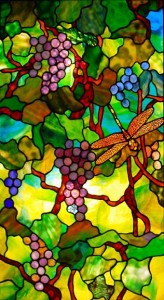 A local client commissioned us to make a pair of grape windows which are to be installed on either side of a fireplace in their home. The warm colors in the windows reflect the other art in the room. Butterflies and a dragonfly can be seen flitting amongst the ripening grapes.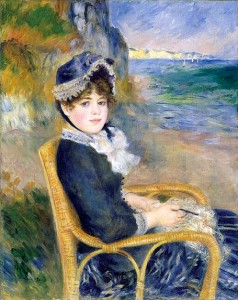 We are currently creating a large, multi-layered window for a New York client based on the Impressionist painting, By the Seaside by Renoir (see photo, right).
This elaborate window depicts a woman sitting in a rattan chair by the sea and has all the beautiful coloration that one expects from Renior.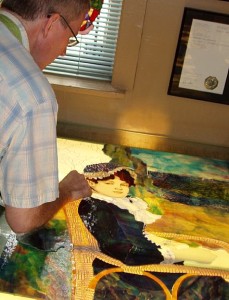 To intensify the colors, multiple plated layers of glass are being used throughout the window. Bill can be seen putting some pieces in place on our light table in the photo to the left.