We recently completed an 18″ Peony for a client in Cape Cod, MA. His request was for us to create a peony shade with lush red flowers. The completed shade is shown on the Turtleback Band base.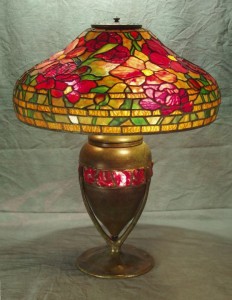 It can be tricky to find red art glass that is not one-dimensional. Fortunately, we work with several talented glass makers who can coax fine variations in the most stringent reds. To get red glass, the molten batch must be infused with either copper, selenium or gold. Copper produces intense ruby red tones, selenium provides an orange/yellow tint to the glass, while gold will produce a deep fuchsia color which lightens to pink when diluted. Gold is also used to create beautiful purple tones in glass.
For this shade, the background glass is an amber/green mix with a hint of fuchsia pink in it. The intense gold pink blended with the amber tone providing a backdrop upon which the red flowers came to life.
Upon receiving the lamp, our client wrote (in part), "The lamp shipment arrived Monday and I unpacked it yesterday. Little wonder that you send successfully items here and abroad, as your packing style is in a class of its own. The lamp is in perfect condition. I used three 40-watt bulbs and it glows with stunning, glorious colors. If Louis Tiffany Studios were still in production, they would be hard-pressed to match your technique. We are thrilled with the end result of your work."