After a short stint away from the studio two weeks ago, we hit the ground running when we got back to work. Irwin worked on completing two different lamp projects while Bill continued to make progress on our next large window commission.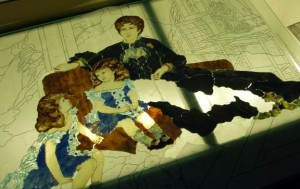 Bill has been hand painting faces and laying out portions for our next large window which is inspired by Renoir's painting entitled "Madame Charpentier". This will be a multi-layered widow and is quite large. The color palette for the original painting is not what jumps to mind when one thinks of an Impressionist painting. For this image, muted ochers, ambers and reds are accented with blue and play against a large amount of black. To translate this image into glass, much time is being spent carefully choosing the glass that will give the image life.
Bill usually starts these projects by getting the basic painting done for the faces and hands of the figures. Once we have more glass in place, additional painted layers will be added to blend the color of the facial features in with the rest of the window.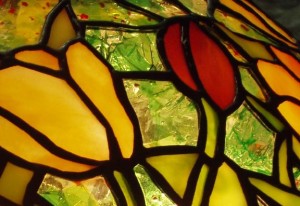 While Bill was busy painting and firing the window pieces, Irwin was working on a 14″ Tulip shade that was commissioned by a client in Australia. By the end of the week, Irwin had the shade completed. A detail of the completed shade is pictured to the right.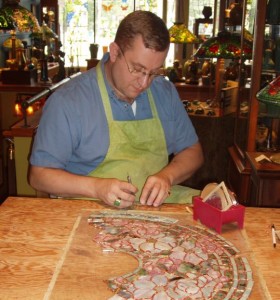 Honing his multi-tasking skills, Irwin was also busy laying out an 18″ Peony shade while there was still some room on the light tables. In the photo to the left, Irwin has completed the layout and is foiling the pieces. The Peony is being created as a showroom lamp.