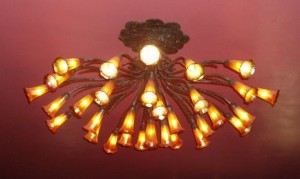 Century Studios is pleased to announce the inclusion of two new ceiling fixtures to our line of unique Lily Lights. Inspired by an original Tiffany Studios fixture, we are now offering a 31 Light Lily Ceiling Fixture (shown in the photos above and below) and a 49 Light Lily Ceiling Fixture.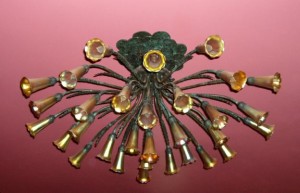 The 31 Light Lily is approximately 42″ wide and 20″ deep. The 49 Light Lily measures approximately 48″ wide and 22″ deep. Each gold lustre blown glass lily shade cascades down from the cast bronze bell which is held to the ceiling by cast bronze lily pads. These impressive fixtures will impart a golden glow to any room.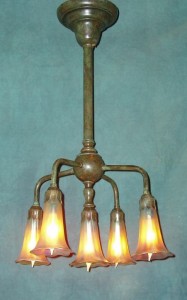 We are now also creating a 5 Light Lily Ceiling Fixture. This petite chandelier is approximately 11″ wide and drops 20″ from the ceiling. It is perfect for a hallway or small entryway. The simple lines of this fixture make it perfect for any style interior. The length of the fixture is adaptable. 10, 15, or 25 watt candelabra bulbs can be used in each light.