Once again, Irwin and Bill are working on multiple projects at the same time. Irwin has been creating a 22″ Turtleback Turban Shade while Bill has gotten a set of Four Seasons Windows underway.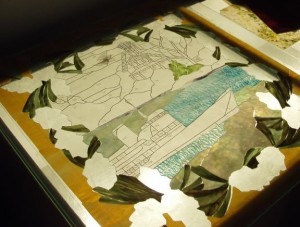 We have created seasonal window panels many times in the past. With this set of four windows, Bill is working to create seasonal locations in and around the Lake Geneva, Wisconsin area. This work was commissioned by a Wisconsin couple and the windows will be filled with local Lake Geneva sites. Autumn is nearing completion, while Winter is well under way – just like the seasons outside our studio windows!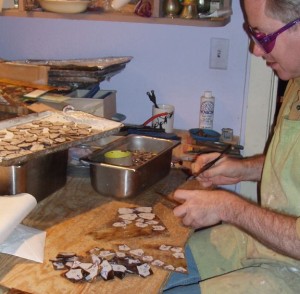 The photo on the left shows Winter on the light table with the pinecone border missing. The photo on the right shows Bill cutting the pinecones that will be added to the panel.
Irwin has been busy making a 22″ Turtleback Turban shade for the showroom. Because this shade is a large one, he wanted to have the background shift in color from top to bottom rather than just be one tone of green.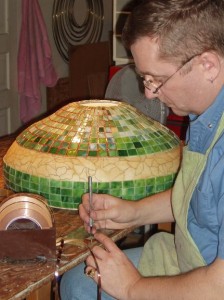 At the top of the shade, the glass has an amber/orange/white mix of color on a green ground. The shade will shift down through a light green/dark green/white mix to a green tone at the bottom and the turtleback tiles will be green.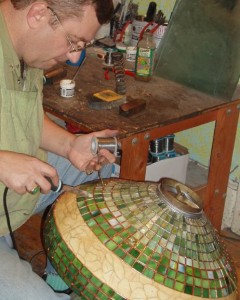 Irwin is shown foiling and soldering the outside of the shade in the two photos. The missing area of glass will be filled in with the large hand cut turtleback tiles once the shade is off the form.