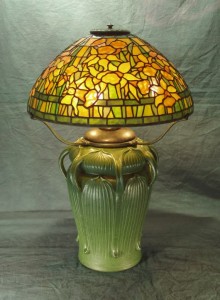 As we have mentioned in the past, Louis Comfort Tiffany's favorite flower was the daffodil. It is not surprising then that there are many different daffodil shade patterns in a wide variety of sizes which were created by Tiffany Studios. The 16″ Banded Daffodil shade is a lovely reminder of the flowers that bloom in springtime.
Contained by, yet spilling over a pair of horizontal border rows, the multitude of daffodils on this shade are in full bloom.
Recently commissioned by an Ohio couple, we have completed this 16″ Banded Daffodil shade in tones of yellow, amber, spring greens and peach, giving the shade a rich, blended coloration. The heavily mottled flowers contrast with the streaky background glass in the shade. The tones of the shade are perfectly complimented by the 7 Handled Pottery Base that we created (with Ephraim Faience Pottery) for the lamp.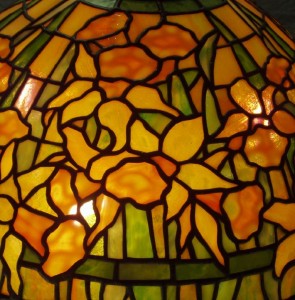 Upon receiving the shade, the clients emailed, "The lamp arrived yesterday in good order and we are very pleased/thrilled with every aspect of your superior workmanship… the lamp looks so great setting on a Gustav Stickley table in our modest Arts & Crafts bungalow….I wish you could see it! You have been very knowledgeable and helpful to work with. Naturally, we will recommend your products to friends and associates, Thank you very much."