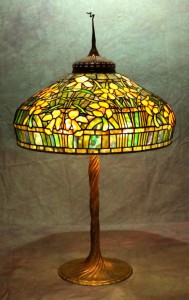 This week we are very excited to add another new shade design to our lamp offerings – the 20″ Daffodil Turban. This Tiffany Studios' design has a stylized naturalism which represents the best of the Tiffany floral shades. The flowers, while "growing" on the shade as if in a garden, are placed mirror image in such a way as to create an arching pattern around the shade.
The example pictured was created for an out of state client in tones of pale blues, purples and greens with vivid golden daffodil flowers. The many borders in the shade change color subtly from top to bottom.
With the addition of the 20″ Daffodil Turban shade, we have increased our 20″ daffodil shade offerings to include four designs! The ever popular 20″ Daffodil remains one of our favorite Tiffany lamp designs and makes a fantastic table lamp or chandelier fixture.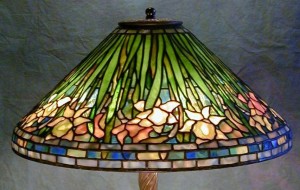 The 20″ Windswept Daffodil is a variation on the standard daffodil, but with more movement in the flowers.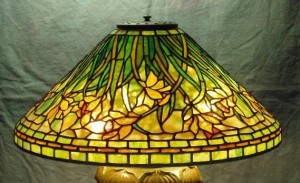 The 20″ Jonquil Daffodil is a generous dome that has features two different varieties of flower on the same shade.