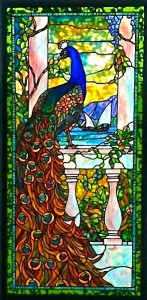 The Peacock window was completed in time to make its debut in our booth at the Arts and Crafts show in September. Inspired by an original Tiffany Studios window, the multicolored peacock rests majestically on a balustrade overlooking a garden and a serene lake beyond. This colorful window is highly detailed, and is framed in a dark wooden frame so it can be hung from chains in front of a window.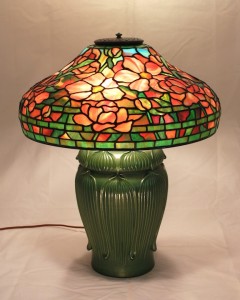 Also completed in time for the show is this lush 18″ Peony shade. Composed in rich tones of pinks and greens, the shade has shots of blue and yellow which lend additional excitement to the piece. The pink tones in the glass are achieved by the addition of gold to the glass batch. When mixed into to the batch, gold produces pinks and purples that light with a fuchsia tone. The shade is shown on the Pottery Base – Kendrick Design. The reproduction metalwork was made in our studio, and the pottery portion of the base was created to our specifications by Ephraim Faience Pottery.
This 18″ Peony shade is the 800th reproduction Tiffany stained glass lamp shade created by Century Studios! Time has certainly flown since we first started our studio June 1, 1986.