Over the years we have seen several original Tiffany Studios' shades and bases come into our studio. We have also been fortunate to have been invited by clients to see their treasures in their homes. It is always a thrill to see an original Tiffany lamp "up close and personal".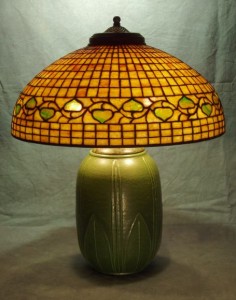 Recently, we had a couple bring in an original Tiffany Studios 20″ Acorn shade. The shade had been hanging as a chandelier fixture in their dining room (as is often the case, the chandelier fixture was not period), and they wanted to convert the shade into a table lamp.
After reviewing the multiple base options, our clients chose one of our Grueby reproduction pottery bases. The proportions of the base worked beautifully with this large shade. The pottery portion of this lamp base was created for Century Studios by Ephraim Faience Pottery, and the wonderful matte green glaze perfectly complements the green acorns and amber/orange tones in the background of the shade.