Before we give a recap of the various projects we have been working on, please note that:
CENTURY STUDIOS
WILL BE CLOSED
THURSDAY APRIL 7
through
WEDNESDAY APRIL 13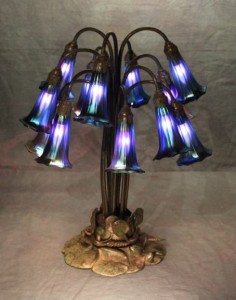 Spring is always a busy time of year at Century Studios, and spring 2011 is no exception! We have recently completed and begun many different projects. An out of state client commissioned a
12 Light Lily Table Lamp
with Blue Lustre shades. After receiving the lamp, the client wrote, "It's a blue Favrile lover's dream, and is the crown of my collection."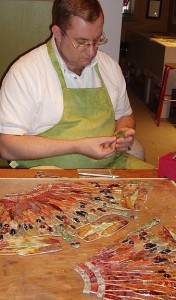 For a local client, we completed a 22″ Drophead Dragonfly shade mentioned in our March 9, 2011 posting. This stunning shade has a background glass that shifts from red at the top, through fiery orange tones and down to greenish glass towards the bottom. The dragonfly bodies were created in green ripple glass, while the wings were a sunny yellow with ruby red streaking.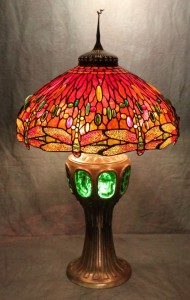 Large shades tend to take up every surface in the work space, and this shade at one point occupied our two light tables, the cutting table and our layout table! As we finalized our color selections, the light tables began to free up and soon the lamp was cut and fit to the pattern so the foiling could begin.
22″ shades always take a bit of time at every step along the way. Soldering on a large shade will occupy Irwin for more than a week, especially when there are filigrees to be positioned on the dragonfly wings.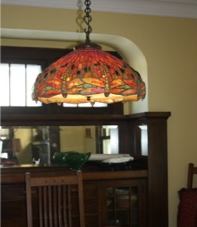 The completed shade delighted our clients. Shown on the impressive Turtleback Base, the shade was installed in our client's dining room as a chandelier fixture.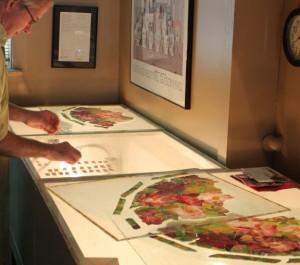 While Irwin was soldering the Dragonfly, Bill was busy drawing window cartoons and laying out a 22″ Peony Shade for the showroom. The 22″ Peony is cut and fit, but is patiently sitting off to the side as we work on commission orders. We are looking forward to foiling and finishing up this large floral shade soon.