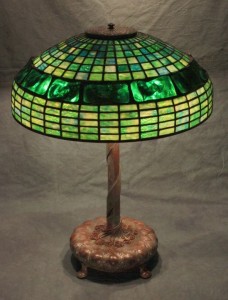 We recently completed an 18″ Turtleback shade which was commissioned by a client in Texas. The shade has different shape than the 18″ Turtleback shades we have previously created. The finished lamp is shown on the Decorated Library base.
Tiffany Studios created turtleback shades in many different shapes and sizes. Referencing an original Tiffany Studios' shade, we were asked to closely match the shape, color, and texture of the original shade. Fortunately, the glass used in the original shade was made by the Kokomo Opalescent Glass Company, which sold glass to Tiffany Studios in the late 1800's and early 1900's.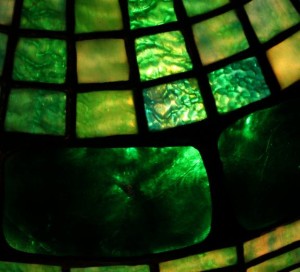 What gives this shade its lively textural quality is the tight ripple glass which is used "smooth side out", giving the viewer a surprise when the shade is illuminated and the textural quality of the glass is revealed. We cut the turtleback tiles to be less square and more horizontal, once again taking our cue from the original example. The resulting shade has a compact, horizontal feel.
Upon receiving the completed lamp, the client wrote to say that, "The shade is awesome!".