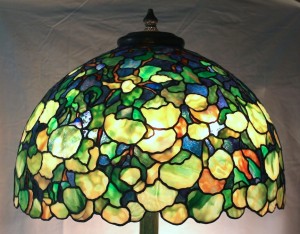 New to our showroom is this 24″ Snowball shade.
Often mistakenly referred to as a Hydrangea design – Hydrangea flowers are conical (see photo to the left) while Snowball flowers are round (see photo below) – Snowball bushes can reach heights and widths of 8 to 20 feet. Since flowers on Tiffany Lamps were rendered life sized, this large flowering bush makes a perfect subject for the generous proportions of a 24″ shade.
The irregular lower edge gives this design the natural feel of a large specimen with branches bent by flower clusters in full bloom. Our 24″ Snowball shade features a variety of glasses in a blended color scheme.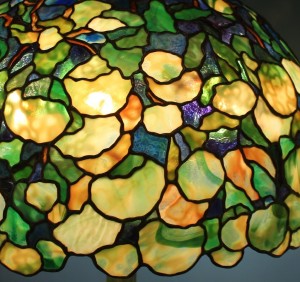 The textured glass used in the sky is a blue/purple sky glass created by Lins (they have been out of business since the late 90″s and their glass is highly prized amongst stained glass artists). Set against this stunning backdrop are flower clusters rendered in a variety of off whites, greens, and amber tones. The abundant foliage has greens tinged with purple, yellow, red or amber, giving the an overall Impressionistic coloration which becomes more vibrant as you move closer to the shade.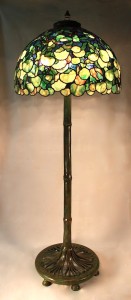 The 24″ Snowball is the deepest Tiffany Studios shade design. Occasionally, this shade is pictured on a large table lamp base, but Snowball works best on one of the Senior Floor bases or as a chandelier fixture.  This spectacular shade is currently available in our showroom and is on display on our new Bamboo Senior Floor Base. The combination of shade and base blend harmoniously into a work of art