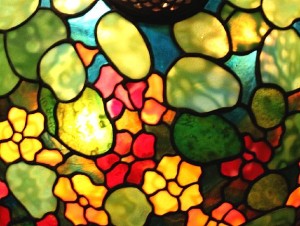 A recent addition to our showroom is this colorful 20″ Nasturtium Shade. The shade has a non-repeating pattern, and the saucer-like shape is the perfect vehicle for this Tiffany Studios design.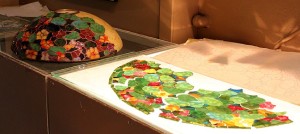 Usually a shade will utilize three or four repeated sections to create the shade, although there are also two, five, seven and even nine repeat patterns. Non-repeating patterns offer the viewer the option of seeing something different from every viewing angle. The photo above shows one half of the shade on the light table while the other half has been foiled and transferred to the form.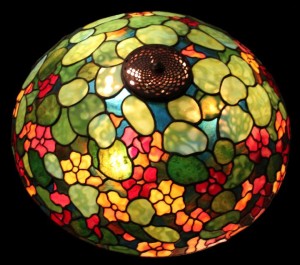 At this time of year, nasturtiums can be seen creeping across the garden, climbing over rocky areas and mounding in colorful profusion. The flowers and leaves are edible, and offer a peppery kick to salads. This shade perfectly replicates the large lily pad shaped leaves and multicolored flowers of this cheerful plant. The pattern ebbs and flows across the surface of the shade with clusters of leaves prevalent in some areas, and an abundance of flowers blooming wildly in others.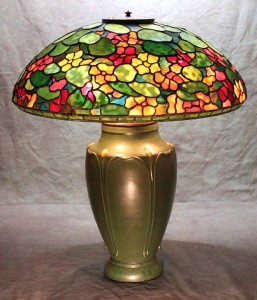 We are showing this shade on our new Budding Urn Pottery Base. This shade works equally well on a number of different table bases. This lamp is currently available for purchase in our showroom.