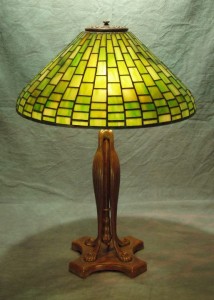 We are pleased to introduce a new shade pattern to our line of reproduction Tiffany lamps. Our latest offering is a 16″ Geometric Cone Shade. We also offer this design as a 20″ Geometric Cone. Tiffany Studios made many variations on geometric shade patterns. Almost every shape and size of shade was created using geometric tiles of glass.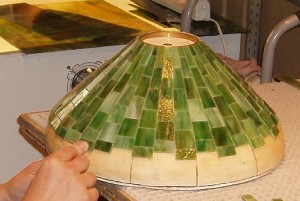 Most geometric shade designs were created as horizontal bands of small pieces. Occasionally, the pieces were made in a horizontal "brickwork" pattern. The cone shaped shades feature a modified brickwork pattern. This vertically orientated design is more complex than most other geometric patterns, with the size of the pieces changing width vertically as they progress down the shade. The result shade has a sleek, elegant look. In the photo to the left, Irwin is shown fitting the pieces onto the form.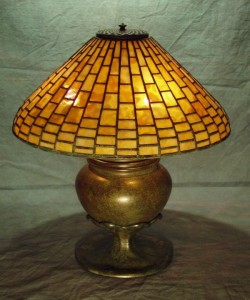 At Tiffany Studios, all of the simpler geometric shades were created at the Long Island glass foundry by the men, while the floral designs were created at the Manhattan location by Clara Driscoll and her "Tiffany Girls".
The amber colored example is pictured on the Flower Petal base and was created for a client in Virginia. The green example was made for our showroom and is currently available for purchase. The green shade is pictured on the Lion's Foot base.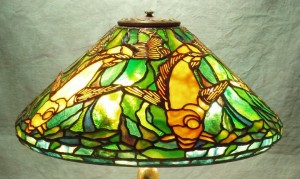 Another recently completed shade currently available in our showroom is a 16″ Fish shade. This boldly colored shade works well with either bronze or pottery table bases.