We have recently completed two different 22″ Dragonfly shades. Commissioned by two separate clients, these shades were as different as night and day.
Our first client requested a rich, deeply colored shade to be used as a floor lamp on the Twisted Vine Floor base (photo to right). The background glass in the shade started at the top with rich red/orange/deep amber tones and shifted color into beautiful deep blues with hints of purple and green. The multi-colored jewels adorning the shade give the piece sparkle.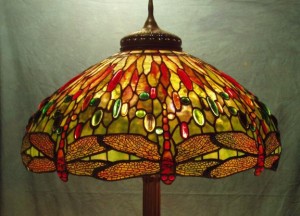 The second rendition of this popular Tiffany Studios' pattern was created in a lighter color pallet. The lush greens at the bottom of the background moved up into reds and were snow capped with whites at the top of the shade. Red and orange were colors that were requested by our client, so we encrusted the shade with vivid red jewels and rendered the dragonflies in oranges and reds. This shade was ordered on the Junior Floor base, a 5′ tall version of the classic Senior Floor base.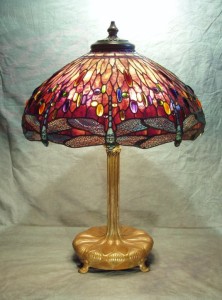 Dragonfly shades can be created in a multitude of color ranges and can be used as chandelier fixtures, table lamps and floor lamps. The wine-colored example pictured to the right was made for a local client in 2007. The three 22″ Dragonfly shades pictured below are just a few of the many examples of this design that we have created over the years.