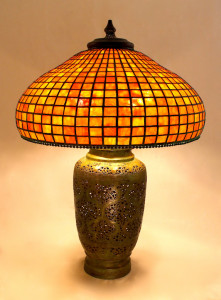 The 22″ Geometric shade can be used as a chandelier, floor, or table lamp. The simple geometry of the lead lines provides a symmetrical framework which is calming and shows the glass to great advantage. The deep honey amber/orange glass is a perfect fit for a large geometric shade. The warm color is inviting and comfortable.
Commissioned by an Illinois client, this large shade was created to be used on an antique lamp base from their collection. The exotic pierced base gives the lamp a feeling of East Indian or Moorish origins. If the shade were put onto the simple Large Stick base, this lamp would be equally at home in a contemporary or bungalow style interior.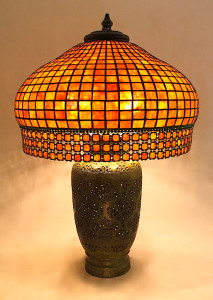 The addition of three rows of Chain Mail accentuates the Far East appearance of this lamp. Our reproduction Tiffany Studios Chain Mail is hand made in our studio.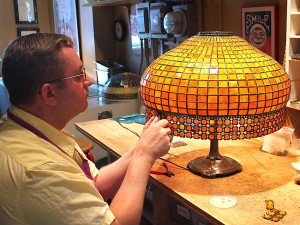 The labor intensive process takes time and patience- on the right, Irwin is seen completing the final attachment of the Chain Mail to the shade. Chain Mail was often used by Tiffany Studios on chandelier fixtures to extend the depth of the shade and help disguise the light cluster. It is a unique Tiffany look that we are pleased to make available.