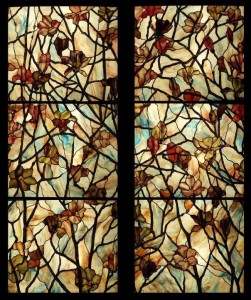 Followers of this blog will know that since January we have been working on a large set of Magnolia windows (pictured left). Now completed, crated and shipped to our client in Ohio, the windows are ready for installation in their home.
In the photo, the windows look somewhat somber and moody because they were photographed on our light table. Once installed, sunlight will bring up the blues in the background glass and pinks in the flowers and the panels will be light and airy.
After unpacking the panels over the weekend, our client wrote, "Thanks for blessing me with these wonderful items from your skilled hands. I no longer have to contemplate how extraordinary Tiffany's five-part magnolia window looked in his Manhattan home: for you have fashioned me a work of art that rivals them. They will be cherished by me for years to come."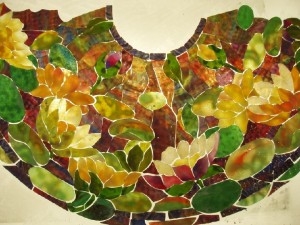 Irwin finished laying out a new showroom lamp this past week – a shade he began working on in December and had to put aside while the magnolia windows were under construction. This 20″ Waterlily shade is being created in "Monet Sunset" colors. We will show the completed lamp in an upcoming post.