The past two weeks have been a whirlwind of multiple projects with Bill and Irwin leapfrogging back and forth from one to the next.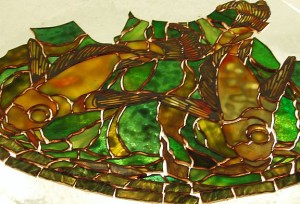 After Irwin finished soldering on the Magnolia Windows for our Ohio client, Bill began cleaning and patinating the panels. While the cleaning was taking place, Irwin got to work laying out a 16″ Fish shade for another client.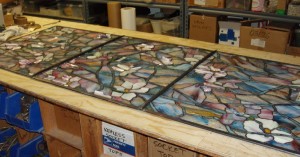 Once the individual panels of the Magnolia Windows were cleaned, we had to lay them out for one final check before boxing and shipping them to Ohio. These windows were so large that we had to use our layout table on the lower level of our studio to check them. The windows will arrive this week at the client's home, ready for installation.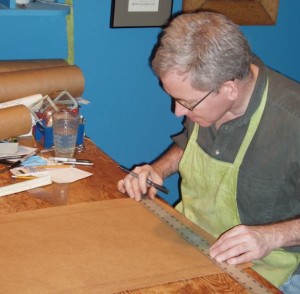 While these projects were being completed and started, Bill was also taking time to draw cartoons for upcoming window projects. Now that the drawings are completed and the Magnolias are shipped, things have calmed down to a more reasonable pace with only two projects being worked on at the moment! Irwin is completing the Fish shade and Bill is working on a suite of small windows for a local client.