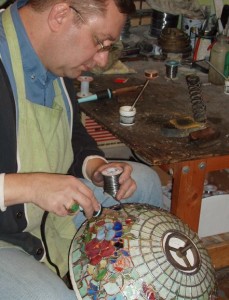 The 16″ Pansy lamp which was commissioned by a Minnesota couple has been completed (see posting on 1/12/09 for "Part 1" of this shade's construction). Once the foiled pieces of glass had been transferred onto the waxed form, Irwin soldered the shade. When the soldering was completed, the shade was cleaned, plated, patinated and is now ready for pick-up.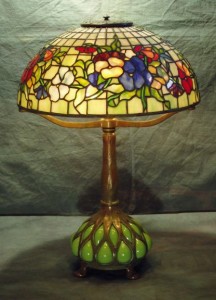 This Pansy shade is going on a wonderful Tiffany reproduction base – The Vial Base. Using molds taken from an original Tiffany example, the metalwork is made and is then given to a glass blower who heats the metal before blowing the green glass into the framework. Tiffany Studios created quite a few "reticulated" lamp base designs using this technique.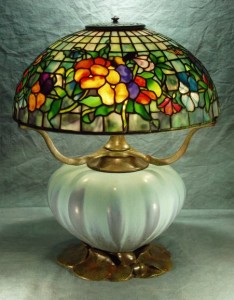 Like most of the 16″ Tiffany shade designs, the Pansy can be used on many different lamp bases. In 2006, we made a Pansy shade for our showroom in which the colors of the shade were made to go with our version of a Tiffany Lily Pad Base. Tiffany Studios created Lily Pad bases with blown glass inserts, but for this base we had Ephraim Faience Pottery create a ribbed pottery insert. The unique look of the pottery and bronze complimented the shade. This lamp is now in a private local collection.