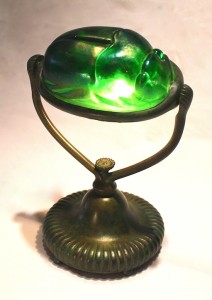 We were able to sneak one more new reproduction Tiffany Studios lamp design into the showroom just before Christmas this year, the Scarab Lamp.
The Scarab Lamp is a petit accent light with a pressed glass shade in the shape of a beetle. This is a tricky little lamp to create, and much time and patience is required to get all the cast bronze parts lined up perfectly.
We created this delightful lamp as a showroom piece, but once completed it was quickly snapped up by a local client.