Another shade we recently completed for a local client was a 12″ Dogwood. The client had obtained an original Tiffany Studios petite floor lamp which had no shade, and he commissioned us to make a shade for the base. This type of Tiffany floor base originally would have had either a blown glass, spun metal or stained glass shade.
Because this base supports the shade using a harp at the top, a fitter ring was needed to be able to mount the shade to the base. The client requested the dogwood flowers to be done in pinks, and we found some wonderful "gold pinks" in our library of glass.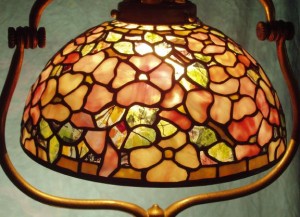 Glass is colored by incorporating minerals and mineral oxides into the molten batch. Different minerals will produce various colors when added. To produce a pink with a fuchsia hue, gold is used. Gold will also produce purples that stay purple in incandescent light – purples made with other minerals will appear purple in sunlight, but will brown out when lit by an incandescent light source.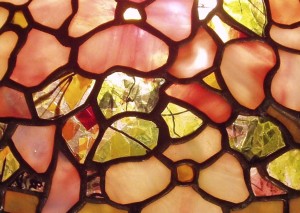 To keep the tone of this tiny gem light and airy, fracture/streamer glass has been utilized. This versatile glass keeps the shade from looking heavy. The combination of gold pinks and fracture/streamer is a perfect compliment for the Gold Dore finish on the base.