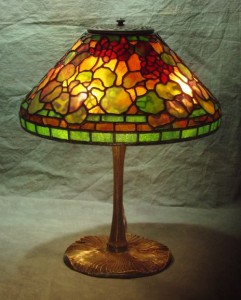 We are, as usual, juggling several projects at once right now. Moving to our new location has put us slightly behind, but we are beginning to catch up with our orders! This week we completed a 14″ Geranium shade which was commissioned by a local client.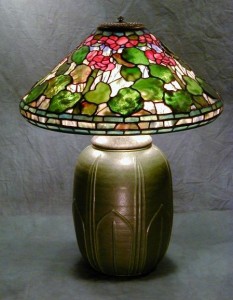 Tiffany Studios produced geranium shades in two sizes: 14″ and 16″ (we created the 16″ shade shown at the right in 2004). Because Tiffany floral designs are true to life, this popular plant was created in "pot sized" shades. The 14″ shade (pictured above left) was mated with the Mushroom base. This base was popular in Tiffany's time and is one of the most sculptural bases created by the studio.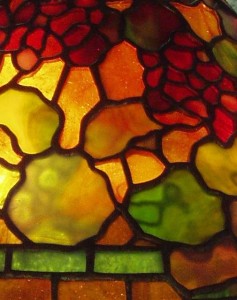 Our clients requested warm, summer tones for the background on the shade and cheerful red flowers. The resulting shade coloration resembles a peaceful garden at the end of a hot summer day. A backdrop of amber sunshine tinged with the red of sunset plays on the dappled green leaves. This coloration works well for both Geranium and Poppy shades.