Last week we completed a 14″ Arrowhead shade for our showroom. This unusual Tiffany Studios design looks appears to be an abstract design when in fact, it is a fairly factual representation of a flowering plant (Syngonium podophyllum – see photo at left) which grows beside ponds and marshes. Nurseries and plant growers have created disease resistant house plant varieties of the Arrowhead. A popular landscaping specimen, "natural" versions of this highly decorative plant are often seen around ponds on golf courses.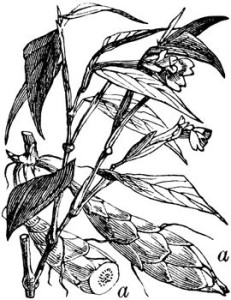 The Arrowhead plant is a favorite motif of Arts & Crafts era designers, and is often mislabeled as "Arrowroot". Arrowroot plants (Maranta arundinacea – see drawing to the right) are a completely different plant species whose tubers provide a thickening starch used in cooking.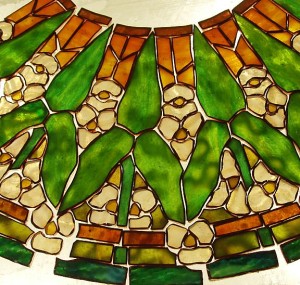 Taking our cue from the favorite places the Arrowhead grows, we chose a color scheme that subtly emphasizes the natural habitat for the plant. The bottom border of the lamp is rendered in a ripple textured green & blue water glass, while the "plants" grow on the shoreline.
Shown on the Swamp Flower base, this 14″ cone shade is a perfect compliment to any decor where a floral or geometric accent lamp is needed. The somewhat stylized shade pattern is naturalistic, but has a geometric flavor that appeals to more masculine interiors. This shade design, along with larger 20″ version of the pattern, is a favorite in Arts & Crafts and Prairie Style interiors.