Today we will feature the ultimate Christmas gift for someone very special, or perhaps for yourself – lamps from from Century Studios. Please call or email for more information on these shades, or stop in to our showroom and view them in person. 651-699-4838 centurystudios@visi.com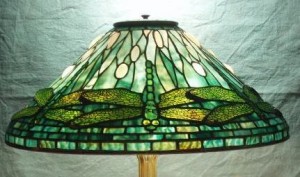 20″ Dragonfly – A Tiffany Studios' signature design, the 20″ Dragonfly can be used as a table lamp or as a chandelier fixture. This shade has a jeweled background. The 20″ Dragonfly is priced at $2820.00.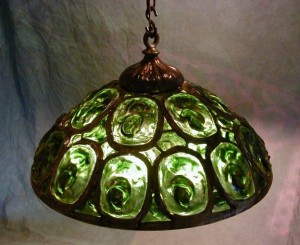 26″ Turtleback Chandelier – This impressive chandelier is made from reproduction Tiffany Turtleback Tiles. The hauntingly beautiful green shade includes a single chain, 6 light chandelier fixture. This chandelier is priced at $7500.00.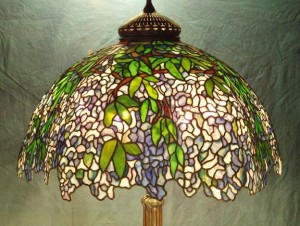 28″ Wisteria – The ultimate Tiffany Studios lamp, this large shade is made from over 2000 individual pieces of glass. With over 300 hours of production time needed to create this shade, it is truly a work of patience and attention to detail. The 28″ Wisteria shade makes a beautiful chandelier fixture or an impressive floor lamp when used with the Sr. Floor Base. The shade is priced at $8975.00.