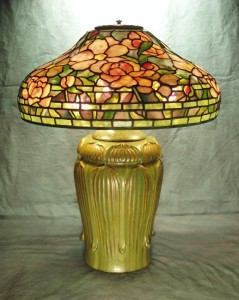 We completed an 18″ Peony shade for a local client this past week. The glass used for the shade included some wonderful pale pinks in the flowers. The shade is pictured on a Kendrick design pottery base. The photo below shows the flat layout of the shade on our light table.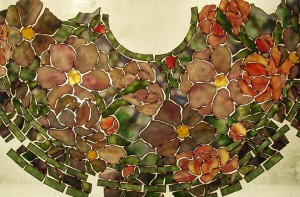 We are about mid way through the pre-order period for our 2011 Limited Edition Dragonfly Vase.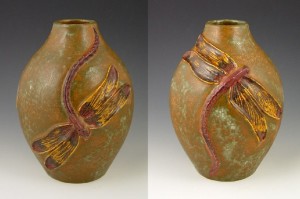 Century Studios is offering this rare piece of Ephraim Pottery to our clients on a pre-order basis for $200.00. Due of our long standing relationship with Ephraim Pottery, Century Studios is the only dealer for which EFP creates a special edition vase. To pre-order this piece for your collection, contact us by FRIDAY MARCH 11, 2011 at 651-699-4838. Time is getting short to pre-order this year's vase, so call soon!
The design process for our limited edition vase begins in the late fall of each year. Before talking with Ephraim Faience Pottery, Irwin & Bill discuss what the proposed design might look like, the size of the vase, and what glaze the body of the piece will have. Irwin then creates a sketch which is forwarded to the pottery for their consideration and input.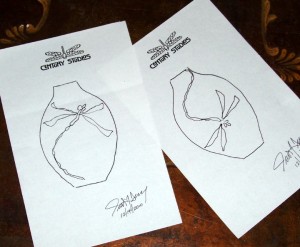 This year, we proposed making the vase with two dragonflies – one flying up and the other down. In the past, our vases always had the dragonflies swirling in the same direction.
After viewing the sketches and making the final decision on the background glaze, a prototype Artist's Proof piece was created by EFP. The choice of colors on the dragonfly bodies and wings was left to the glazer's imagination and we are thrilled with the color combination of the vase.