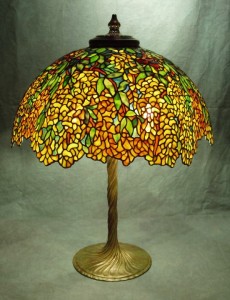 Here are photos of a few lamps that we either recently completed, or have had the opportunity to re-photograph:
We created this fantastic 22″ Laburnum on a Twisted Vine base for a client in St. Louis. We recently had the shade back in our studio and were able to re-photograph it.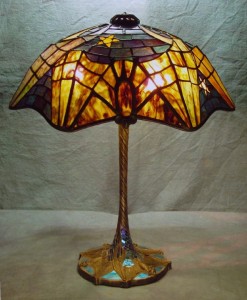 Creatures of the night rarely appear on original Tiffany lamps, but they did produce a 17″ Bat design! The studios made very few examples of this design. We recently completed a Bat shade for a local collection. The unusual bat base was supplied by the client and Bill Campbell did the blue lustre mosaic on the base.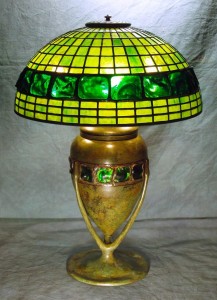 Commissioned by an Illinois client, this 16″ Turtleback shade is mounted on the unusual Turtleback Band Base. Both the shade and base were created at Century Studios. In previous postings, we have shown an example of this base which we made with a red turtleback band. A light inside the base illuminates the band of hand-cut turtlebacks.