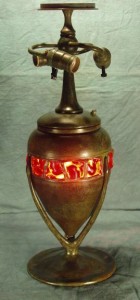 This week, we are pleased to introduce a new reproduction Tiffany lamp base to our offerings. The Turtleback Band Base is a lamp base that we have been working on for quite some time. The base features a band turtleback tiles which light from within the base. The band can be made using green, amber or red turtlebacks.
To create this parts for this base, it takes the combined efforts of our studio, a glass foundry, metal spinner, bronze foundry, and a machine shop. This multi step process culminates at our studio where we hand cut and fit the glass turtlebacks for the band, do the finish work and patination on the metalwork, then wire and assemble the base.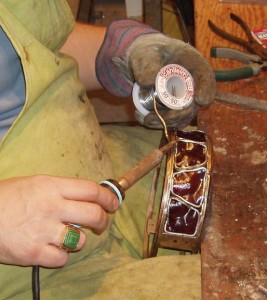 In the photo to the left, Irwin is soldering the turtlebacks for the band into place. The photo below shows the base parts assembled and ready for the final work at our studio.

The Turtleback Band Base works with 16″ and 18″ leaded shades.