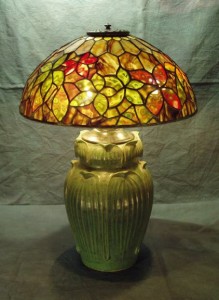 Recently completed, the 16″ Woodbine is a Tiffany Studios' shade pattern that combines naturalistic and geometric elements. Shown (to the left) on a Pottery – Kendrick Base, this shade can be used with many different bases and is currently available for purchase in our showroom.
Also known as a Virginia Creeper, the lush green foliage of this climbing vine turns deep burgundy and red in the fall, making it a highly decorative plant. The plant will adhere to masonry and wood without damaging the surfaces and can reach heights of over 60 feet.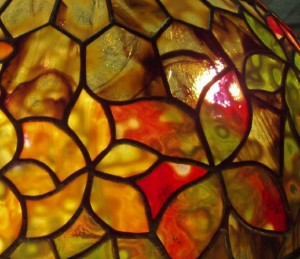 The 16″ Woodbine continues to be a popular shade design because it masterfully combines floral and geometric elements into an almost abstract pattern. Because of this, the shade becomes more about the glass and less about its representational elements. You can see the leaf patterns, but they become impressionistic through the skillful use of glass. The foliage in this shade appears to just be beginning to change color for fall with rich cranberry reds, oranges and lush greens dotting the surface of the shade.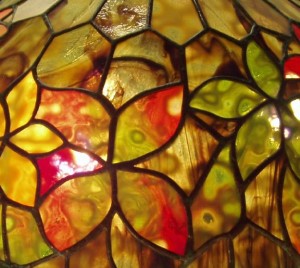 In this shade, we are once again featuring the new Circa 1900 glass (see our posting from September 22, 2009). The background for this shade was created from an unusual Circa glass that has a mottled, woody color tone with a greenish tint which is highlighted with streaks of brown and purple.