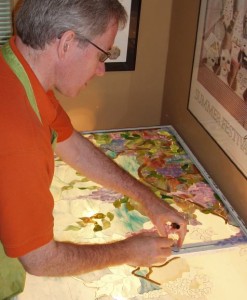 Last week was another busy week at Century Studios. We have been working on no less than FIVE projects at the same time! This week we hope to complete several of these projects so we can complete all of our orders. We will show photos of the completed pieces in future postings. Here are two of the projects we have going:
Bill has been laying out a large wisteria window for a local client. This piece will be installed in a transom window over the front door when it is completed. The window has a light, airy feel towards the bottom, then fills in with clumps of wisteria towards the top.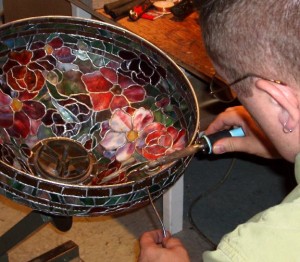 Irwin is shown attaching the bottom rim of an 18″ Peony shade for an East Coast client. This lamp is covered with deep red peony blossoms in full bloom. We have had lots of inspiration in the local gardens where the peony bushes are at the end of their early summer bloom.