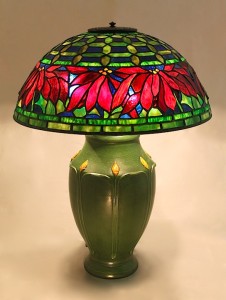 We were commissioned by a client in Michigan to create an 18″ Poinsettia shade in deep blues, reds and greens. The pattern features lattice in the upper half and poinsettias in full bloom on the lower half. The deep midnight blue connects the two elements and provides a backdrop for the lush reds and greens. We are showing this lamp on our Budding Gourd Pottery base, but the clients installed the shade as a chandelier fixture in their home.

Upon receiving and installing the shade, the client sent the following note, "Gentlemen…congratulations on an art work brilliantly executed. This will become a family heirloom. I enjoy it from every angle and observe its performance through the day with the bulb turned off but with various levels of daylight coming through. It was a pleasure to work with you.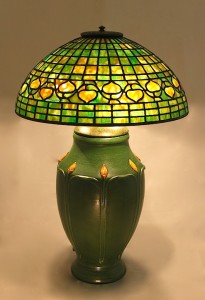 We also recently completed a 16″ Acorn shade for our showroom. The shade was made from a beautiful green/amber glass in which the colors blended together perfectly to create a lively shade with subtle color shifts. In our showroom for less than one week, the shade was purchased by a client from North Carolina.