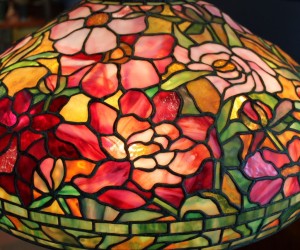 This past week we completed a 22″ Peony shade for our showroom. The shade is now on display and available for purchase.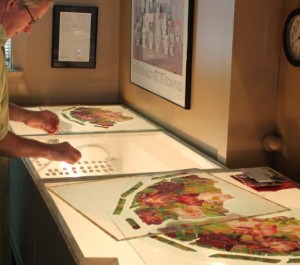 The color inspiration for this shade was based on the 22″ Peony shade once owned by Barbara Striesand, with a rich amber/yellow background that supports a riot of peony flowers in full bloom. Flower colors range from white with hints of red/pink to deep crimson reds.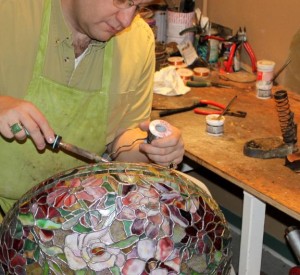 Tiffany Studios created two versions of the 22″ Peony shade, along with a third 22″ "Elaborate" Peony design. This is the first time we have created this second version of the 22″ Peony shade, and we now offer this design in either variation.
It is not unusual to find several versions of the same shade pattern. Floral lamps were designed by Clara Driscoll and once the pattern was approved, thin copper templates were made for each piece in the lamp. After several shades were cut using these templates, they would become worn down and new templates would need to be made. This offered the lamp department the opportunity to implement changes to the designs.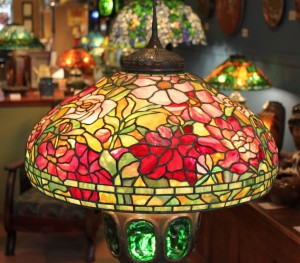 Often, flowers and leaves were added or removed, and some shapes to the pieces would be altered. Sometimes the changes were dramatic (look at our 16″ Tulip and 16″ Tulip Field shades), but often it takes a keen eye to spot the differences between shades. Spotting differences becomes even more difficult because the lamps were made in so many different color schemes.