For our recent show at the end of September, we created a number of new shades and bases, some of which are now on display in our showroom, available for purchase.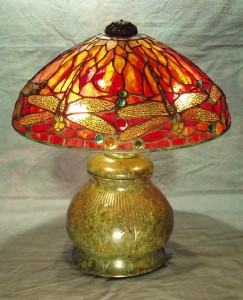 The 14″ Dragonfly shade is the smallest of the Tiffany dragonfly designs. This design is perfect for showcasing vibrant color, and it makes a wonderful accent lamp. The jewels in the background of the shade were made by Century Studios, using molds taken from original Tiffany jewels. This exciting dragonfly was created in a fiery red/orange/yellow glass. It is pictured on the Tobacco Leaf base which was made in our studio using molds taken off an original Tiffany Studios' base.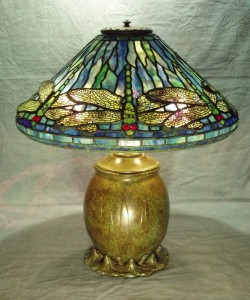 Another dragonfly design created for our show is the 16″ Dragonfly shade, pictured on the Swamp Flower base. The red-eyed dragonflies skim the surface of this shimmering shade with its cool, watery tones of blue and green. The Swamp Flower base works equally well with 14″ shades.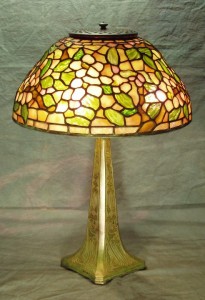 The Chinese base supports our third shade, the 12″ Apple Blossom. This surface of this reproduction four-sided base is incised with a stylized Chinese dragon motif which adorns the desk set pieces created by Tiffany Studios. This petite shade features flower centers that are hand chipped from thick pieces of golden yellow glass, giving the shade a jewel-like appearance.