This week, we are pleased to add another Tiffany Studios design to our list of reproduction shade patterns. The 20″ Geometric Cone is a larger version of the 16″ Geometric Cone which we introduced this past spring (see our posting from May 29, 2010).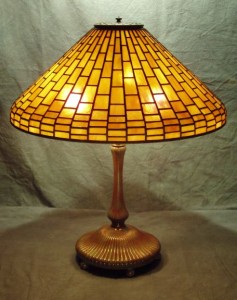 The 20″ shade makes a perfect table lamp or chandelier fixture. The simplicity of the design works well in any interior with a look that is tasteful and elegant. An original Tiffany Studios' example in a color scheme similar to this one was used as set dressing in the movie My Fair Lady. In the film, the lamp can be seen on the piano in Professor Higgins' library/study.
The shade pictured is made in a medium amber tone that gives off a pleasant, golden glow. It is shown on the Ribbed Base.