Tiffany Studios created many different kinds of lighting fixtures using a unique "chain mail" which could be put together in a variety of ways. Each square of the chain mail has a small square of art glass held inside it. Usually found on Tiffany wall sconces or hanging chandeliers, chain mail was also be used to make unique objects like fireplace screens.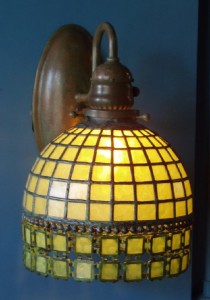 At Century Studios, we have long been fascinated with the many uses that this distinctive Tiffany application had in period lighting. Medieval, Moorish and Middle Eastern in its design influence, chain mail extends the length of a stained glass shade. It can be used as the decorative glass element in a fixture on its own. After researching original Tiffany pieces, we are pleased to introduce reproduction Tiffany Studios Chain Mail to our clients.
In the fixture pictured above, we have created a wall sconce using a 7″ Geometric shade which has two rows of chain mail attached to it. Each piece of chain mail is put together by hand, taking much time and patience to delicately weave the squares into a flexible fringe for the shade. Chain mail can be added to the lower border of any hanging shade in multiple rows to give a fixture a unique period look.