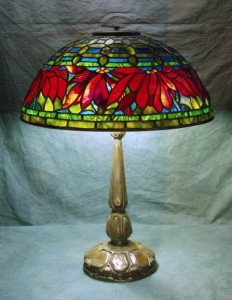 When the lamp department at Tiffany Studios developed a successful design for a stained glass shade, it was usually worked up at several different sizes and shapes. This way, if a client wanted to accent an interior with more than one lamp in the same style, or if they liked a floral motif but needed a specific size of lamp, they had a choice of sizes to choose from. In our posting from October 19, 2008 we featured the 18″ Poinsettia Trellis lamp (see photo at left). We also offer Poinsettia shades in three other sizes.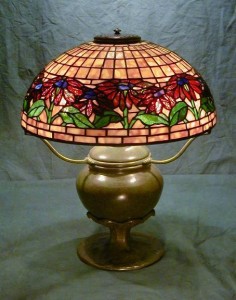 The 16″ Poinsettia (left and right photos) is a versatile shade size that can be used as a table lamp or petite chandelier fixture.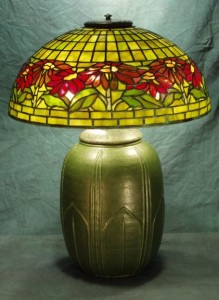 The foliage on this shade is similar to the 18″ shade being centralized in a decorative border. The background above and below this border is the brickwork style favored by Tiffany Studios.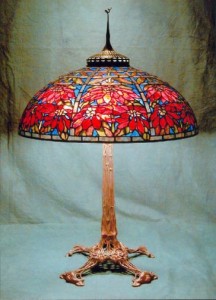 The 22″ Double Poinsettia (right photo) begins to expand on the formal design aspects of the smaller shades. Individual flowers are positioned inside a segmented trellis. While more naturalistic than the smaller sizes, the design is still held in check by the trellis. This shade can be used as a large table lamp, a petite floor lamp or as a chandelier.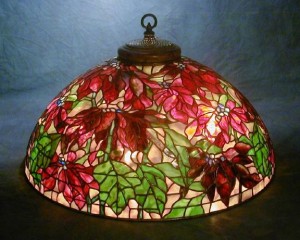 At the other end of the design spectrum from the stylized 16″ and 18″ Poinsettias (and even the 22″) is the naturalistic 26″ Poinsettia shade design. This realistic, allover shade pattern is Tiffany lamp design at its most sophisticated. The upper portion of the shade is covered with the lush leaves – the flowers of the Poinsettia are actually the small round "centers" in the design. These leaves can be rendered in naturalistic tones of red, pink, white and green. Horizontal leadlines are worked into the design in the lower portion of the shade. In addition to providing strength for the shade, these lines become a visual element which allows the viewer's eye a place to rest. The horizontal leadlines remind us of wire garden cages used to keep unruly plants in check.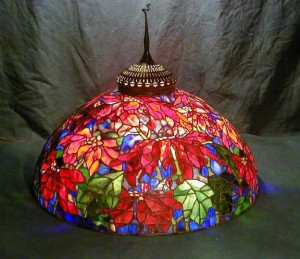 As with many of the large floral lamp designs created by Tiffany Studios, the 26″ Poinsettia is a perfect showcase for the best glasses available and this pattern's coloration becomes impressionistic when the potential of the design is fully realized. This generously proportioned shade is perfectly proportioned for use as a chandelier fixture or on the Senior Floor Base.