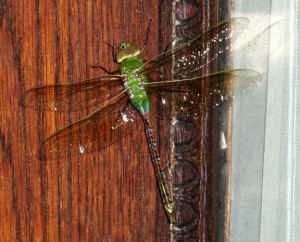 Every year about this time we try to get a few new lamps made before the upcoming Arts & Crafts Show. We have been working on two new pieces for the show, and hope to sneak in more before next weekend!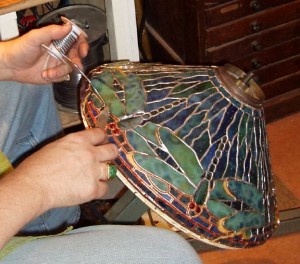 Inspired by a large dragonfly we found on our front door one recent Sunday morning, we are putting together a 16″ Dragonfly shade. Using a few of the new Circa 1900 glasses, the shade will have a rich blue/green background and muted light green/purple wings. Irwin was busy soldering on the shade over the weekend.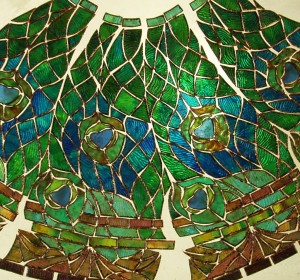 Meanwhile, Bill has been laying out a dazzling 18″ Peacock shade. The entire surface of this intricate shade is created in a delicate ripple glass with jewel-like tones of greens and blues.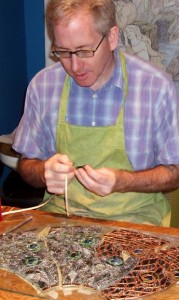 Purple accents towards the bottom of the shade contrast the rich flowing feathers that come from the top of the shade. Bill has been busily foiling the 1150 pieces of glass that will make up this signature Tiffany design.
We will show photos of the completed lamps in upcoming posts.