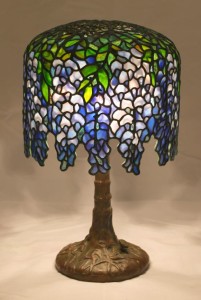 New to the showroom is a 10″ Pony Wisteria Lamp. This Tiffany Studios design packs a large punch into a small package. This remarkable piece is currently available for purchase in our showroom.
Starting with a cast bronze openwork crown made specifically for this shade, the blossoms of the Pony Wisteria cascade down the sides of the shade, ending in a highly irregular lower edge. The lower edge is finished with a half round copper reinforcing wire which provides strength and a polished look to the bottom of the shade. Branch work continues into the body of the shade, giving the piece a naturalistic look.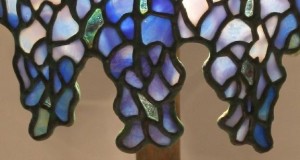 With over 870 individual pieces of glass to be cut and fit, the shade has as many pieces as many of the large 22″ shades!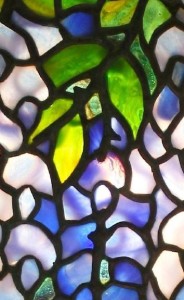 The flower glass for this shade was selected from a variety of mottled white, blue and purple mixes. The vibrant greens of the leaves perfectly compliments the flower tones, and the hammered background glass gives the shade just the right touch of sparkle.




The shade is pictured on the detailed Pony Tree Trunk base, which was designed by Tiffany Studios specifically for this shade. The base has three lights inside the shade, and a bronze turn knob to illuminate the lamp.