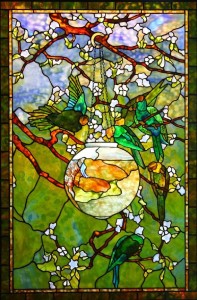 New to our showroom is the Parakeet and Fish Bowl Window. Adapted from an original Tiffany window design, this piece features colorful birds clustered around a large hanging fish bowl, amid blossoming tree branches. While this is a fairly unlikely situation to be found in nature, the juxtaposition of the brightly colored birds and luminous bowl make for a striking image. The original window was created by Tiffany Studios in 1893 for the World's Columbian Exposition in Chicago. In 1996, the original Tiffany window was sold at Christie's in New York for $1,047,500.00.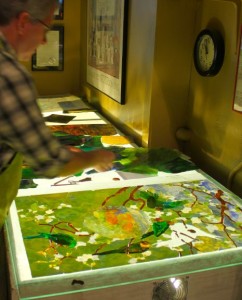 To create our version, Bill referenced photographs of the original Tiffany window, and hand drew the cartoon. Once the pattern was created, Bill began the layout process with the sky portions. The lower sky was cut from a piece of Chicago Art Glass which we have been saving for over ten years for this specific window project. CAG created wonderful glass and has been out of business for over 7 years.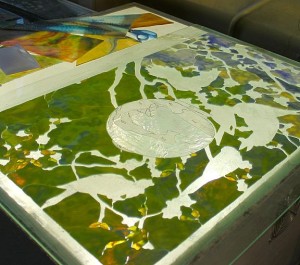 The fish bowl is created using two layers of glass. The front layer is a single piece of heavily rippled transparent glass which gives the abstracted fish in the bowl a sense of movement. To complete the lifelike impression that the bowl is suspended in a tree, copper chain was affixed to the surface of the window – a detail borrowed from the original Tiffany Studios' window.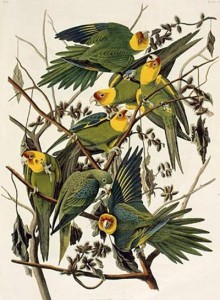 It is interesting to note that in the original window the rendering for the birds was taken from the 1829 John James Audubon print Carolina Parrot from his work The Birds of America (this image is frequently referred to as Carolina Parakeet). The artists at Tiffany Studios must have had access to a copy of this remarkable book, and it would have appealed to Louis C. Tiffany to use this work as a reference because the birds are represented life sized in the print. Whenever possible in windows or lamps, Mr. Tiffany wanted plants (and animals) to be drawn "true to life", so this reference work would have been far easier than finding birds to draw from life at the studio.
The Parakeet and Fish Bowl Window is currently on display in our showroom and available for purchase.