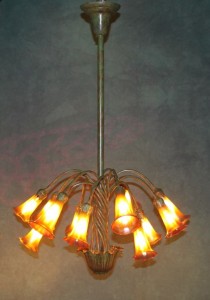 This week we completed the 12 Light Lily Chandelier for our showroom. As with the 7 Light Lily Chandelier featured last week, this fixture is created in our studio, finished in a verdigris patina, and can be made at different lengths. On this fixture, we have used two styles of blown glass lily shades – one type is gently fluted, the other is more trumpet shaped. Since the fixture is inspired by a blooming lily plant, we thought it would be nice to have the "blossoms" at different stages of openness on the fixture.
We completed the Oz window for our local client. The completed window was framed in wood to be used a free hanging piece in our client's home.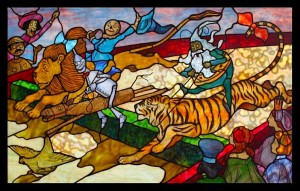 This is based on the endpapers drawn by John R. Neill for Ozma of Oz, L. Frank Baum's third book in the Oz book series. Bill spent a lot of time painting the details in the figures – painting on glass is achieved by using powdered minerals which are ground into a "paint" and have to be kiln fired onto the surface of the glass. Similar to china painting, the colors are built up gradually, and each piece of glass must be fired multiple times.
HOLIDAY HOURS
Now through December 23
Tuesday through Friday 10 – 6
Saturday 10 – 4
Sunday 12 – 4
Closed Mondays
651-699-4838