This past week we completed two light fixtures, a chandelier and a small table lamp. Both are available for purchase in our showroom.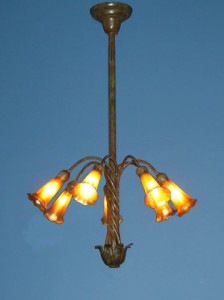 The first is a 7 Light Lily Chandelier. Blossoming from a cast bronze basket, each stem rhythmically twists upward and flares out, ending in a blown glass lily. This fixture is created in our studio, finished in a verdigris patina, and can be made at different lengths. We will also be finishing up a 12 Light Lily Chandelier and an 18 Light Lily Chandelier in the next week or so.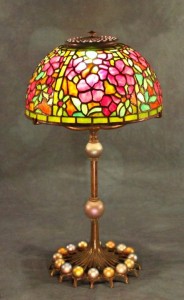 Also new to the showroom this week is a lovely 10″ Azalea shade. This detailed Tiffany design features azalea flowers in full bloom within a trellis. The flowers play against the green trellis and blended orange/green coloration of the background glass. The 10″ Azalea is shown on the Lustre Ball base.
The Lustre Ball Base is a brand new addition to our lamp offerings. This petite lamp base is Century Studios' own interpretation of a rare Tiffany Studios candlestick/lamp base, and is created in our studio. The cast bronze bottom has a feeling of open airiness and sits on 16 feet, while the 16 glass balls surrounding the foot of the base add further dimension to this sculptural casting. The lustre surface of the balls reflects light, and the look is completed with two larger lustre balls incorporated into the stem.
HOLIDAY HOURS
Now through December 23
Tuesday through Friday 10 – 6
Saturday 10 – 4
Sunday 12 – 4
Closed Mondays
651-699-4838